Welcome to Sloppy Seconds which is monthly feature hosted by myself and Teresa of
Readers Live A Thousand Lives
. Sloppy Seconds is a feature in which Teresa and I buddy re-read some of our very favorite books and then post our thoughts and feels. So sit back, relax, grab a glass of wine, and re-live some great reads with us!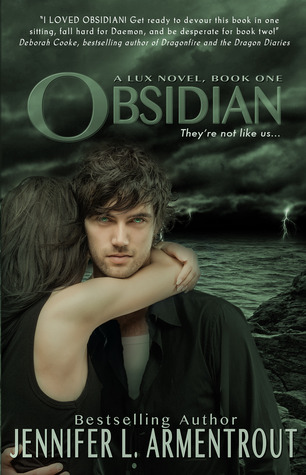 Release Date: December 6, 2011
from Entangled Teen
B&N
|
Amazon
"Starting over sucks.
When we moved to West Virginia right before my senior year, I'd pretty much resigned myself to thick accents, dodgy internet access, and a whole lot of boring... until I spotted my hot neighbor, with his looming height and eerie green eyes. Things were looking up.





And then he opened his mouth.





Daemon is infuriating. Arrogant. Stab-worthy. We do not get along. At all. But when a stranger attacks me and Daemon literally freezes time with a wave of his hand, well, something... unexpected happens.





The hot alien living next door marks me.





You heard me. Alien. Turns out Daemon and his sister have a galaxy of enemies wanting to steal their abilities, and Daemon's touch has me lit up like the Vegas Strip.
T
he only way I'm getting out of this alive is by sticking close to Daemon until my alien mojo fades.
If I don't kill him first, that is."

Teresa Mary Rose
Wifey! Re-reading Obsidian with you was magical! Simply magical! I missed Daemon so so much!
Michele Belle
This was definitely a fun pick, and your enthusiasm over this series and a certain snarky alien was seriously contagious. Loved it!
Teresa Mary Rose
I may be a teensy tiny bit obsessed with Daemon... but it is nothing to be concerned over I have the obsession perfectly under control.... kinda
Michele Belle
Perhaps. Maybe. Yeahhhh, there may be an alien 12-step program in your future.
Teresa Mary Rose
Possibly... but until then I shall live in my blissed out Daemon land haha! Okay serious time... I had forgotten how much of a jerk he was in the beginning. I still loved him, but damn he was so snarktastic!
Michele Belle
So, I confessed to you before this re-read that Obsidian and I got off to a rocky start (see how punny I am?). Actually, I liked Obsidian -- it was Daemon that I had a problem with. This was my first JLA book, and I had heard SO much about this series and about Daemon. I was not prepared to... well... dislike him so much! The story and the writing were very different from what I had been reading at that time and I enjoyed it. I really liked Katy because she loved books and blogging. And I loved Katy when she put Daemon in his place. But that arrogant ass-tastic alien and I had some issues to work through. You know we did indeed work through them thanks to some character growth, but most of it was due to finding out what truly lurked underneath that superior, egotistical, exasperating exterior. ie: I wanted to kick him in his extraterrestrial nutty places. This re-read was enjoyable because instead of focusing on doing him bodily harm, I was able to laugh more at the things he came out with. And boy, oh boy, does he come out with some doozies. There were also a lot of hints and moments that clued you in that there was more to Daemon than first meets the eye. I think I missed a lot of that the first time around because I stayed so angry with him. I love that you got a better feel for Daemon than I did even on your first read. What made you more forgiving towards his ass-butt inclinations?
Teresa Mary Rose
I am so glad you came to love Daemon because it may have hurt my soul if you didn't love him. When I first read Obsidian I fell in love right away, even though he had many ass-tastic moments, but I think it was because I just knew there had to be more to him. Also because even though he was being a jerk, most of the time he was doing it with Dee's best interest at heart. I figured anyone who loved their sister that much had to be a decent guy and I was just kinda waiting for Daemon to show who he really was. Also, I LOVED their interactions. I loved how Katy never backed down and I could tell that they both enjoyed their little spats. I love that they continue to argue like that throughout the series, it just fits them.
And now that you brought up Katy.... I need to flail. I ADORE Katy... she is one of my favorite heroines ever. I love her love for books and I just relate to her so much because of that. I kind of miss this Katy now that she is Super Katy.
Michele Belle
No worries there, Wifey. Things that happened at the end of Obsidian were promising, I read certain things that transpired in book one from his POV, and then the books that followed had me warming up to him slowly but surely.
See? The sister thing! That's something you would know about and pick up on right away; but as someone who is sibling-free, I overlooked it. All I could think about was, as a mom, if I ever heard a boy be condescending like that to my teenage daughter, I would make him a eunuch. True story. You make an excellent point, and I really did love Dee. The sibling dynamic between them was very sweet and you could feel the sadness over the losses that they had experienced, which perfectly explained why Daemon was so protective of Dee and wary of her having a friendship with Katy.
And while some of what Daemon was giving us was indeed Daemon being Daemon... I think it was Katy being the amazing girl that she is that really gave him pause and had him reconsidering the way he felt about humans. I fell for Katy the moment she was giddy over posting her Waiting on Wednesday. She fully embodied a blogger's highs and lows over things like getting new followers or not receiving any comments on a review -- and especially the squeeing over books arriving on your doorstep. She won me over so easily!
Teresa Mary Rose
Yeah the sister thing got me. I mean, if that was my brother I would have smacked him upside the head but at the same time I got it. I got it even more when I found out about Dawson. It doesn't excuse what he did or said to Katy but it makes me understand it. Also, I really think he had Katy's best interest at heart as well as Dee's. I think events have shown that it really is not safe being connected to them and he was trying to keep her out of it.
Oh yes! I definitely think Katy standing up to him is what made him pause. She didn't back down and he loved that. And any time Katy posted on her blog I got excited! She really is a blogger. It doesn't feel forced or cheesy. Any blogger should be able to connect with her.
Now can we talk about Dee? I loved this Dee! The Dee that was carefree and not jaded by the events of Onyx.
Michele Belle
It was bittersweet re-reading and seeing this carefree and happy Dee while knowing what was in store for her and her family down the road. I loved the friendship between her and Katy, and it hurt my heart that Dee longed so much to have a friend. I'm very happy they found each other.
And because we loved Dee and Katy so much, there just has to be a character to hate and suck all the fun out of the room. Ash. I did not like her -- not one itty bitty bit -- and I refuse to be swayed on that. lol You may have softened me toward Daemon, but it's not going to happen with that chick!
Teresa Mary Rose
Yes, it was very bittersweet especially knowing the hard times coming and the difficulties between Katy and Dee ahead. Those two become so close so fast and then everything just falls apart.
Oh gosh Ash... that girl... I LOATHE her. She really is just a terrible person. I don't even know what else to say except that I really really hate her! I really don't like any of the other Luxen. And re-reading I really saw how sly Matthew was.
Oh and other characters we hate... Simon... can we talk about that sleeze?
Michele Belle
Hahaha! I knew just mentioning her name would be like kicking a hornet's nest! Get her, Wifey! She truly had no redeeming qualities in my eyes. I did like Adam -- he was the best of that trio. I never did like Matthew; but yes, I believe there was some foreshadowing there.
Oh, Simon!! What a disgusting, shady horn-dog. You know, Daemon tried to warn her about him... I very much enjoyed seeing Simon get his comeuppance. Talk about someone who needed to be castrated!
And let's talk about the Arum *shudders*. As scary as they were, I was so intrigued by them! I very much enjoyed learning about the histories of the Luxen and Arum. Their conflicts and just the very thought of an otherworldly species hiding among us.
Teresa Mary Rose
Yeah. I dislike her... I wish I could say it all came from a good place, but it really didn't. She was just jealous. Not cool in my book. I liked Adam too, kinda, but he didn't do anything that made me love him. I never liked Matthew either, but there were even more tells when you re-read it.
Yes! Simon was a sleeze bag and I know Daemon tried to warn Katy, but that just made her react the opposite way. And honestly she had no reason not to go with Simon. He always seemed nice and like a good friend and Daemon just came across as overbearing. Thankfully though Daemon had an eye on her.
Ohhh the Arum! I love the whole concept with them-- that they are dark and the luxen are light. And you are right- the whole hiding in plain sight thing is cool. Now remind me, have you read the Arum novel? Cause that book is very eye opening.
I want to kind of circle back to something now. Can we talk about the build up in this book? JLA builds and builds and builds the tension and chemistry and then BAM laptop scene!
Michele Belle
True, but compared to his siblings he was a joy. lol
I don't know... Daemon wasn't the only one who tried to give Katy a heads-up about Simon. I think if I had just moved to a new town and started a new school, I'd err on the side of caution when my peers were trying to clue me in to what kind of guy Simon was and where his interests lay. That was a whirlwind of a night, though! I was on the edge of my seat during everything that took place at that particular point in the book!
Light versus Dark -- and you think for a moment, good versus bad... until you read Obsession -- that Arum novel you mention. I really loved that book, and it was very, very revealing. And what about those "men in black" -- the DOD? Creeptastic!
Oh, the laptop scene. Wowzer! That was something else -- and a prime example of me not liking Daemon, then liking him, and oh, lookey here... right back to NOT liking him. But it made for such good reading, and there is NO denying the steaminess of that scene *fans self*
I appreciated the world building as well as the tension building. My favorite parts had to be the showdowns between the two species and our lil ninja Katy. I love that even though she was scared, her concern for her new friends won out and she truly saved the day... more than once!
Teresa Mary Rose
She probably should have listened, but we all know the minute Daemon told her not to do something she was going to do it. It's just how she is. But you are right, that is a busy busy night and so much happens. It is a huge turning point for the story!
Yes exactly! You think its black and white, but really it is many different shades of gray. I love how the whole Arum and Luxen story has evolved over the series. And yes! The DOD are worse than the Arum in my opinion. They just freak me out.
The laptop scene is so so steamy! But yeah, Daemon does not end that scene on a good note. Even I, unashamed Daemon enthusiast, wanted to smack him upside the head at the end of that scene. It was a fun scene to read though. And this actually brings me to another point I wanted to discuss.
Daemon does not treat Katy all the nicely over the course of the novel, but then at the end he FINALLY admits what we all had come to know and then Katy SHUTS HIM DOWN. Can we take a moment to appreciate that? How many times does that actually happen? In most YA novels the girl would be falling all over the guy.
Ohhh yes the showdowns were awesome and keep you on the edge of your seat. And Katy is awesome even before all the crazy. She cares so deeply for her friends and that really shows just how great she is.
Michele Belle
Huge turning point -- I think that's when I really sat up and took notice of the story and the writing!
Indeed, he does not. But it is the dance they do; and again, it was fun and keeps the readers on their toes.
That was such a surprising and WELCOME turn of events! Truly, that made me proud and happy and yet... sit down for this... made me feel bad for Daemon! I was worried going into this story because I didn't like that Katy was still attracted to Daemon even when he was a jerk. That goes against everything I've taught my teen when it comes to boys. BUT Katy put him in his place so many times; and every time she showed him her middle finger, I laughed! The fact that she comes to that decision and does what she feels is best for HER does make her stand out from other YA MCs, and you are right to celebrate that moment!
On closing this book, I realized I had really come to care about these characters and couldn't wait to continue their journey. I feel the novels that follow show even more growth, and the series just gets better as it goes. I'm ready for Opposition, the final installment that releases in August -- but it's going to be so sad to say goodbye.
Teresa Mary Rose
Right?!?! I loved that Katy was like "nope, I deserve more and you need to prove it". I mean on one hand, I was like "Oh Daemon my heart" but on the other I was like "good for you Katy!" But I also loved that Daemon respected her for that decision! He didn't argue or fight it; he stepped up to the plate and said "okay, I accept this challenge. I'll prove my feelings to you." Like come on, that is such a great message! The girl knows she deserves more and demands it and the guy is like yes you do! Just, so many other books don't take that route.
This series does get better and better and JLA has a knack for character growth. I can't even talk about Opposition, I NEED that book but I am not at all ready to say goodbye to my dear friends.
Michele Belle
It will require hand holding, chocolate, and wine, my friend!
Now to dispel the sadness of thoughts of the final book, let's share our favorite quotes from the first! I've limited myself to just a few since I already know how many highlights you have, and I'm bowing out gracefully because you love this series so very much.
"'You're such an ass. Has… anyone ever told you that?' He flashed a genuinely amused smile. 'Oh, Kitten, every single day of my blessed life.'"
"Because this was absolutely insane—the craziest thing I'd ever done. Worse than giving a one-star review, scarier than asking for an interview with an author I'd give my firstborn to eat lunch with, more stupid than kissing Daemon."
"'Well hello, honey, I've been out boozing and whoring. I know, my priorities are pretty off.'"
Teresa Mary Rose
Hehe oh how you know me so well... I PROMISE I tried to cut it down, I really really did.
Love your picks! Love the bookishness.
"The day my internet was hooked up was better than having a hot guy check out my butt and ask for my number."
"Beautiful face. Beautiful body. Horrible attitude. It was the holy trinity of hot boys."
"So what do you blog about? Knitting? Puzzles? Being lonely?"
"Ha. Ha, smartass." I sighed. "I review books."
"Do you get paid for them?"
I laughed out loud at that. "No. Not at all."
Daemon seemed confused by that. "So you review books and you don't get paid if someone buys a book based on your review?"
"I don't review books to get paid or anything." Although that would be sweet, which reminded me I needed to get a library card. "I do it because I like it. I love reading and I enjoy talking about books."
"I've always found that the most beautiful people, truly beautiful inside and out, are the ones who are quietly unaware of their effect." His eyes searched mine intently, and for a moment we stood there toe to toe. "The ones who throw their beauty around, waste what they have? Their beauty is only passing. It's just a shell hiding nothing but shadows and emptiness."
"Oh. Dear. Baby. Jesus. How did he find it? Wait. More importantly was the fact that he had found it. Was my blog now Googleable? That was awesomesauce with an extra heaping of sauce. "Stalking me again, I see. Do I need to get a restraining order?" "In your dreams, Kitten." He smirked. "Oh wait, I'm already starring in those aren't I?" I rolled my eyes. "Nightmares, Daemon. Nightmares.""
"Daemon followed me home after school Literally. He tailed me in his new Infiniti SUV. My old Camry, with its leaky exhaust and loud muffler, was no match for the speeds he wanted to go. I'd brake-checked him several times. He'd blown his horn. It made me feel all warm and fuzzy inside."
"As in contacting the DOD?" Andrew asked. "I'm sure they'd know what to do with her." "I'd like to see you try that, Andrew. Really I would, because even after last night, and I'm not yet fully charged, I could still kick your ass."
"And if he poked me in the back with a pen one more freaking time, I was going to throw him in front of an Arum."
"If I wanted to be with..." he started, his hands tightening. "If I wanted to be with you, you'd make it hard wouldn't you?"
I lifted my head. "You don't want to be with me."
His lips twitched into a smile. "I'm thinking I kind of do."
Parts of my body liked that. My chest swelled. Insides knotted. "Thinking and kind of aren't the same thing as knowing."
"No, it's not, but it's something." His lashes lowered, shielding his eyes. "Isn't it?"
I thought of the love my mom and dad had again. I pulled away, shaking my head. "It''s not enough."
Daemon's eyes met mine and he sighed. "You are going to make this hard."
I didn't say anything. My heart was thumping as I sidestepped him and headed for the front door.
"Kat?"
Drawing in a deep breath, I faced him. "What?"
A smile parted his lips. "You do realize I love a challenge?"
I laughed under my breath and turned back to the front door, giving him a one-fingered salute. "So do I, Daemon. So do I."
Michele Belle
We know each other so well, and those picks are just perfection. I wouldn't want you to cut it down a bit. I assure you, I have those highlighted, too! I especially adore the one about getting paid to review books. I think if we had a dollar for every time we were asked that question, we could buy a whole series of books. In hardcover.
Thank you for sharing this re-read with me and for not kicking my arse when I gave your favorite alien a hard time. You made this such a fun pick for our monthly discussion!
Teresa Mary Rose
Yeah... you are so right! People cannot grasp the concept of not getting paid to do this haha.
Wifey you can do no wrong in my eyes! I love our discussions and that we each bring different things to the table. This one was so much fun and I am already super excited for the next one.
Michele Belle
Exactly -- those who don't live to read can't understand that the book itself is our reward.
Right back atcha, my love! I love our different takes on things just as much as I enjoy when we're in complete agreement! This was great and I'm counting down the days until our next read which will be FULL of feels and fun since we're on opposing "teams" with that one. *wink wink*
Teresa Mary Rose
Yes I completely agree! And oh yes... our next discussion is going to be full of feels! *smoosh*