that showcases our most anticipated upcoming releases.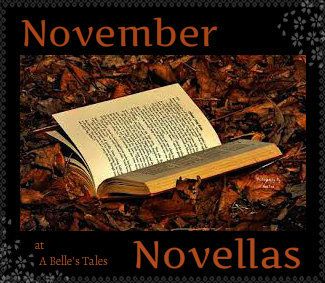 This month, I've been spotlighting and/or reviewing novellas. I adore novellas because they are fast, intriguing reads that either give us insight into a character or storyline that wasn't visited in the book, or they add excitement and fuel the reader's need for the next book in a series. Whether they are prequels or grant us some type of closure, they are a favorite of mine. So, for this Waiting on Wednesday, I've chosen three novellas that I'm patiently waiting for:
November Novella #8:
Title: 'Til the World Ends
Authors: Julie Kagawa, Ann Aguirre, and Karen Duvall
Publisher: Harlequin
Expected Publication: January 29, 2013
Purchase:
Amazon
|

Barnes & Noble
Dawn of Eden by Julie Kagawa

Before The Immortal Rules, there was the Red Lung, a relentless virus determined to take out all in its path. For Kylie, the miracle of her survival is also her burden—as a doctor at one of the clinics for the infected, she is forced to witness endless suffering. What's worse, strange things are happening to the remains of the dead, and by the time she befriends Ben Archer, she's beginning to wonder if a global pandemic is the least of her problems...


Thistle & Thorne by Ann Aguirre
After a catastrophic spill turns the country into a vast chemical wasteland, those who could afford it retreated to fortresses, self-contained communities run by powerful corporations. But for Mari Thistle, life on the outside—in the Red Zone—is a constant struggle. To protect her family, Mari teams up with the mysterious Thorne Goodman. Together, they'll face an evil plot in both the underworld of the Red Zone and the society inside the fortresses that could destroy those on the outside... for good.
Sun Storm by Karen Duvall

Sarah Daggot has been chasing storms since she was a child. But after the biggest solar flares in history nearly destroy the planet, she becomes a Kinetic, endowed by her exposure to extreme radiation with the power to sense coming storms—in the cosmos and beyond. And she's not the only one. Sarah believes the Kinetics are destined to join forces and halt the final onslaught of the sun. She'll vow to keep trying to convince the one missing link in their chain of defense, the enigmatic Ian Matthews, up until the world ends.

Holy buckets of unabashed happiness! Three novellas in one amazing book! I loved The Immortal Rules by Julie Kagawa, so I can't wait to read this short about Eden. I'm a huge Ann Aguirre fan, so I'm super excited to read about Thorne and Thistle. While I'm not familiar with Karen Duvall, she had me at "storm chaser." Sarah sounds like a character after my own heart!
November Novella # 9
Title: Radiant (Unearthly #2.5)
Author: Cynthia Hand
Publisher: Harper Teen
Expected Publication: December 4, 2012
Purchase:
Amazon
|

Barnes & Noble
From New York Times bestselling author Cynthia Hand comes a riveting original novella (available only as an ebook) set in the world of the Unearthly series.


Clara is desperate to get away—from the memories that haunt her in Wyoming and the visions of a future she isn't ready to face—and spending the summer in Italy with her best friend, Angela, should be the perfect escape. . . .


For as long as she can remember, Angela has been told that love is dangerous, that she must always guard her heart. But when she met a mysterious guy in Italy two years ago she was determined to be with him, no matter the costs. Now she must decide whether she can trust Clara with her secret, or if telling her the truth will risk everything she cares about.

Alternating between Angela and Clara's perspectives, Radiant chronicles the unforgettable summer that will test the bounds of their friendship and change their lives forever.

I think I'm most excited for Radiant and, GUYS... it comes out next week! I love it when the wait isn't long!
November Novella # 10
Title: Annabel (Delirium #0.5)
Author: Lauren Oliver
Publisher: Harper Collins
Expected Pub: December 26, 2012
Purchase:
Amazon
|

Barnes & Noble
Lena's mother, Annabel, has always been a mystery—a ghost in Lena's past. Until now.

Discover her secrets in Lauren Oliver's brilliant original digital story set in the world of New York Times bestsellers Delirium and Pandemonium.

Lena Halloway's mother, Annabel, supposedly committed suicide when Lena was only six years old. That's the lie that Lena grew up believing, but the truth is very different. As a rebellious teenager, Annabel ran away from home and straight into the man she knew she was destined to marry. The world was different then—the regulations not as stringent, the cure only a decade old. Fast forward to the present, and Annabel is consigned to a dirty prison cell, where she nurtures her hope of escape and scratches one word over and over into the walls: Love.

But Annabel, like Lena, is a fighter. Through chapters that alternate between her past and present, Annabel reveals the story behind her failed cures, her marriage, the births of her children, her imprisonment, and, ultimately, her daring escape.

Another novella that I'm anxious to get my hands on! I've been so curious about Lena's mother, and I'm thrilled that Lauren Oliver is going to give us some insight into this mysterious character.
I LOVED Hana, so I'm positive that Annabel is going to be an amazing read!