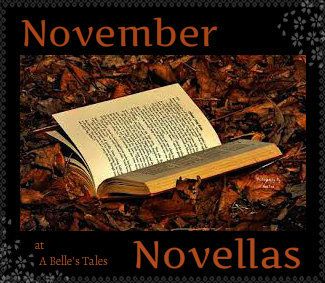 In keeping with the November Novellas theme I have running this month, I'm thrilled to share the cover for Touching Eternity (Touch #1.5), the newest novella by the fabulous Airicka Phoenix!
Airicka has also included an exciting excerpt and the book trailer; and, just in case you haven't had the chance to read book one in the series (Touching Smoke), Airicka is generously offering an Ebook copy of Touching Smoke to one lucky winner.
I just adore this lovely author, and if you haven't met Airicka yet, please follow the links below to find her. She is super sweet and so much fun to talk to.
First up, the cover for Touching Eternity:
Title: Touching Eternity (Touch #1.5)
Author: Airicka Phoenix
Expected Pub: December 20, 2012
What would you choose?
She had everything but freedom. He had nothing but his loyalty, his wits and his training.
She was a prisoner, a disease, not fit for the world, and she didn't know why. But she did know she wasn't allowed to die, she wasn't allowed to live and she wasn't sane.
He was a soldier, a protector, but his foundation will be tested when he must destroy the only light in his dark world.
Thrown together, prisoner and keeper, their rebellion will splinter through time, changing the course of history and the fate of the world. Their love will challenge their greatest enemy and immortalize them forever.
Loyalty. Freedom. Love.
What would you risk?
"Let me die."
Pain darkened his eyes. "Never."

Excerpt from Touching Eternity:
She slept like an angel. It wasn't the first time he'd thought so, but it never failed to amaze him just how much. Her hair was a basket of ribbons spilled across his
chest. Her hands, small and delicate, lay lightly curled next to her mouth. She breathed through her nose and made a soft exhaling sound through her mouth. She was perfectly molded into his side, the way she had been since they were children and he'd wake up with her draped across his stomach, her foot up near his nose. She hadn't been nearly as graceful a sleeper then. He also didn't pinch her feet to wake her up anymore.
Instead, he lightly kissed the riot of ringlets on the top of her head. His fingers glided over the curve of her shoulder, down her arm to her elbow. It took a little longer, but he enjoyed the morning ritual.
"Amalie?" he whispered into her temple.
"Five more minutes," she grumbled, burrowing her face into the hollow of his throat.
Biting back his chuckle, Isaiah shifted his weight, slipping out from beneath her and lying on his side. Her whine had his lips twitching.
"What if your father goes to your room and finds it empty?"
She peeled one eye open, squinted at him. "He'll come in here and force you to marry me in order to uphold my honor."
He laughed. "First of all, he'd probably kill us both and secondly, he wouldn't have to force me to do anything." He kissed her gaping mouth. "Come on. Get up."
Her giggles filled his ear when he nuzzled the spot beneath her the curve of her jaw. She squirmed, but he held her down, biting and nibbling on the smooth stretch of skin. Her squeals faded into soft moans that sent his blood skating with fire. Her fingers tangled in his hair. Her body arched into his, fitting every inch as though she were made specifically for him. His own hand traveled down to her hip. His intentions were to stop her, to restrain her before things went too far, but his hand came up against smooth flesh where her nightgown had bunched, exposing her leg from the hip down and his good intentions scattered.
"Amalie…" The plea in his voice was raw with desperation; one word from her, one flicker of doubt and it was over. He'd stop.
But her eyes were as dark as his hunger, her lips red from the being assaulted by her teeth. The pink in her cheeks darkened.
"I love you, Isaiah." And that's all it took. He came completely undone.
Book trailer:
About the author:
Airicka Phoenix is the author of TOUCHING SMOKE (Touch Book #1),

TOUCHING ETERNITY (Touch 1.5),

TORRID, a short story as part of the Whispered Beginnings: A Clever Fiction Anthology and WANTING & INTENTIONS, two stories as part of the Midnight Surrender Anthology. When she's not hammering away at the keyboard, she can be found banishing pirates or crawling through the attic looking for lost treasure with her kids. She loves baking, gardening and reading. She also likes to travel and take pictures of everything she comes across. When asked, Airicka describes herself as a sarcastic basket case that has an unhealthy addiction to chocolate, old movies and really bad jokes. She loves to laugh, make friends and write. If she could have one wish granted, it would be to spend one day as a fly-on-the-wall inside Stephen King's mind. If she could have two wishes granted, she would ask for a castle dedicated entirely to her overwhelming collection of books.
You can find Airicka here:
Facebook
Facebook Author Page
Goodreads
Airicka's novels:
Airicka's Anthologies:
And now for the giveaway! Please fill out the Rafflecopter form for your chance to win an Ebook of Touching Smoke!
a Rafflecopter giveaway