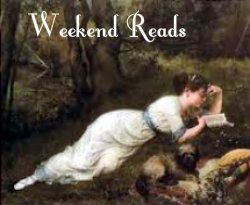 This weekend, I'm reading:
Title: Outpost (Razorland #2)
Author: Ann Aguirre
Publisher: Feiwel & Friends
Published: September 4, 2012
Amazon
|
B&N
|
The Book Depository
Deuce's whole world has changed. Down below, she was considered an adult. Now, topside in a town called Salvation, she's a brat in need of training in the eyes of the townsfolk. She doesn't fit in with the other girls: Deuce only knows how to fight.

To make matters worse, her Hunter partner, Fade, keeps Deuce at a distance. Her feelings for Fade haven't changed, but he seems not to want her around anymore. Confused and lonely, she starts looking for a way out.

Deuce signs up to serve in the summer patrols—those who make sure the planters can work the fields without danger. It should be routine, but things have been changing on the surface, just as they did below ground. The Freaks have grown smarter. They're watching. Waiting. Planning. The monsters don't intend to let Salvation survive, and it may take a girl like Deuce to turn back the tide.

Katertot has a book report due, so she is reading:
Title: Call of the Wild
Author: Jack London
Publisher: Macmillan
Published: 1903
'Deep in the forest a call was sounding, and . . . he felt compelled to turn his back upon the fire, and to plunge into the forest.'

Half St. Bernard, half sheepdog, Buck is stolen away from his comfortable life as a pet in California and sold to dog traders. He soon finds himself aboard a ship, on its way to Northern Canada. Surrounded by cruelty, Buck's natural instincts and behaviour begin to emerge as he works as a mail carrying sled dog, scavenging for food, protecting himself against other dogs and sleeping out in the cold snow.
Sold to a group of American gold hunters who are inexperienced living in the wilderness, the dogs are treated badly and as misfortune besets them, Buck is saved by John Thornton. Indebted to his new master, Buck remains by Thornton's side, saving him from drowning and protecting him with fierce loyalty throughout their time together. However, Buck can not deny the strong lure of the wilderness around him.

Exciting and action-packed, THE CALL OF THE WILD explores the timeless relationship between man and dog, and the inevitable draw of primitive instincts that pull Buck away from civilization and humanity towards the lawless and harsh wilderness.

What book are you planning on curling up with?
Hope everyone has a fabulous weekend!
We'll see you Monday!