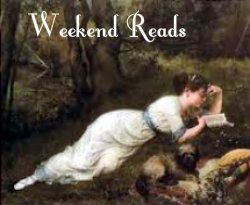 This weekend, I'm reading:
Can she reach her destiny before tragedy strikes?
The doctors have told Kay that she will die before she reaches her eighteenth birthday. Her mother's determination to save her life leads them to a move outside of Asheville, NC to a new set of cancer specialists in the hopes to help her. But it's not what Kay and her Mom find in the doctor's offices in Asheville that lead them on the journey to save her before time runs out. It's what Kay finds in the woods outside of Asheville, and an inhumanly gorgeous guy named Ryan, instead.
Myths and fairy tales come to life before Kay's eyes, bringing her closer to the ultimate cure if she can stay alive long enough to get there. And if the cancer doesn't kill her before she finds the cure the secrets her mother has hidden from her may be the beginning of the end.


Katertot is reading:
The unforgettable novel of a childhood in a sleepy Southern town and the crisis of conscience that rocked it, To Kill A Mockingbird became both an instant bestseller and a critical success when it was first published in 1960. It went on to win the Pulitzer Prize in 1961 and was later made into an Academy Award-winning film, also a classic.
Compassionate, dramatic, and deeply moving, To Kill A Mockingbird takes readers to the roots of human behavior - to innocence and experience, kindness and cruelty, love and hatred, humor and pathos. Now with over 18 million copies in print and translated into forty languages, this regional story by a young Alabama woman claims universal appeal. Harper Lee always considered her book to be a simple love story. Today it is regarded as a masterpiece of American literature.


What book are you planning on curling up with?
Hope everyone has a fabulous weekend!
We'll see you Monday!