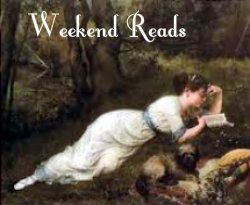 Michele is reading:
Dangerous to be together. Painful to be apart.
Savannah Colbert knows she broke up with Tristan Coleman for the right reasons. Most of all, to keep from killing him with her new vampire abilities. But try telling her heart. Now, lost in a sea of hostile Clann faces, Sav tries to come to terms with what she's becoming and what that means for her future. And that someone is doing their best to bully her into making a terrible mistake.

Tristan can't believe Sav won't even talk to him. If being apart is her decision, fine. Just don't expect him to honor it. But even as he prepares to fight for the girl he loves, forces beyond their control take them both in directions neither could have foreseen or prepared for.

A reckoning is coming… and not everyone will survive.


Katertot is reading book five in one of her favorite series:

ShadowClan has a dark new leader, but will he be satisfied with his power now -- or does his desire for revenge burn even more strongly?
Fireheart fears that there is a connection between the rise of Tigerstar and the terrible dreams that haunt his nights, murmuring of danger and death.
Meanwhile, a mysterious and vicious threat unlike any other has invaded the forest, placing every cat's life in peril. Fireheart's beloved leader has turned her back on their warrior ancestors, and Fireheart can't help but wonder if she's right. Has StarClan abandoned them forever?

What book are you spending your weekend with?
Have a great one, everyone!