So, a few of you told me you that while you were mildly disturbed by my post about my favorite books (Click here for post), you also enjoyed it. Turns out, several of you haven't read some of my zombie books, though. Well, I can't have that... So, what better way to spread the love and written zombie word than with a giveaway? A ZOMBIE-licious giveaway!!!

Here's what's up for grabs:

And not only those three amazing books, but the winner will be able to choose TWO
t-shirts from these designs (your choice of size and color):
One zombie chocolate bar and three zombie suckers to keep you nourished during the apocalypse - after all, you have to keep your strength up when you're dodging the undead.
One very important (you'll thank me one day) Zombie Survival Guide poster:
One "I Love Zombies" sticker:
...and one "I love you more than zombies love brains" magnet ('cause I do <3!):


What do you have to do to get all these zombietastic goodies?
Just fill out the Rafflecopter form!
And you can grab an extra 25 points if you post my zombie badge on your site: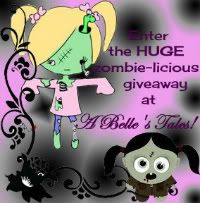 (special thank-you to Christie at
Christie's Book Reviews
for making my badge)
**There is a bonus 50 points if you are an actual zombie, but authentic zombie ID is required.
Thanks for entering!!

Click 'Read more' for Rafflecopter form:
a Rafflecopter giveaway